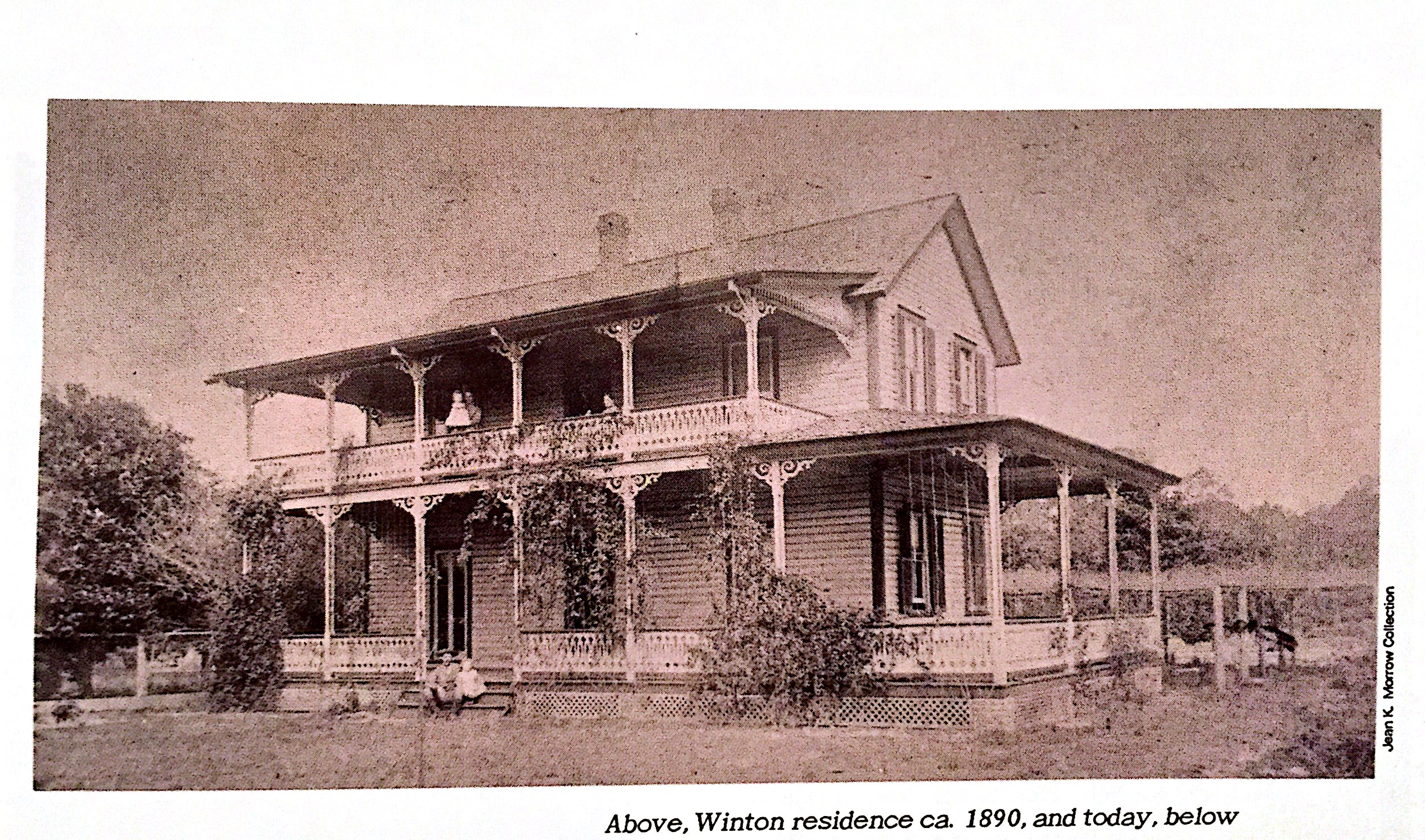 Jubilee Hall was constructed in the fall of 1887 by William Monson for the family of Charles Frederick Winton, and is highlighted in Wayne Woods' book "Jacksonville's Architectural Heritage". Charles Winton, born 1851 in Maidstone, Kent, England, came to Mandarin in the 1870's as a representative of Lloyd's of London. He was responsible for overseeing the export of produce shipments, including fancy fruits and vegetables. He organized local growers to supply the overseas shipping business, and also acquired roots, herbs and flavorings from the black community as additional shipping product.
The home featured a simple, but finely detailed two-tier veranda, and has two chimneys with vaulted hoods. It was named Jubilee Hall because it was a popular gathering place for Mandarin families. The Winton Family were also among the founding members of Church of our Savior. The picture above shows the Winton Family in the 1890's on both levels of the veranda.
The builder of Jubilee Hall, William Monson, was born in 1841, the son of a Norwegian immigrant who settled in St. Augustine, and was taught the cabinet making trade. Monson temporarily left the cabinet business to fight as a Confederate soldier during the Civil War, serving in Company D, Tenth Regiment, Florida Voluntary Infantry, attached to the First Florida Battalion. He fought in the Battle of Olustee, among others, and was paroled at Appomattox Courthouse on April 10, 1865. He returned to North Florida to continue his trade as a carpenter, cabinet maker and builder. He was hired by a group of nuns in Loretto, Florida (Mandarin) to build a convent, and later built the original St. Joseph's Catholic Church.
The home was purchased in 1961 by Jerry & Helen Simon, directly from descendants of the Winton family. Jerry was a WWII veteran and renowned Real Estate Appraiser who held many local, state and national Appraisal Board positions. Jerry passed away in late 2009, at age 92. Helen was a Real Estate Broker and business woman who, until recently, lived in this home. She was our neighbor and friend.
In January of 2014, she engaged me to help evaluate the property for development potential, and to prepare exhibits that could be used for marketing the property. The concepts I developed centered around saving and restoring the home, but ultimately none of the options provided the value needed for her family. Restoring this home didn't make financial sense from a pure Return on Investment analysis.
The home currently sits unoccupied on the 9.4-acre estate, to be sold once zoning is resolved. We have explored multiple options to restore the home in place, or relocate the home to an adjacent private property. Moving the two-story home to an immediately adjacent property is the only option for relocation and preservation because the oak tree canopy along County Dock Road and Loretto Road is designated Scenic and Historic Corridors. We have identified an adjacent property and are negotiating with the owner to relocate the home.
We are striving to acquire the property and/or home and restore it to its original glory. Please contact us if interested in helping preserve this special home in Mandarin.